Ms.Geeta pandey (Founder)
Mrs.Geeta pandey is a founder and managing director of this company. She is an enthusiastic person to established her company "Hills Range treks and expedition". She is well-experience in this field sience 11 years.She established this company with vision to provide high quality services in tourism industries. She successively establish this company with well concept providing international level of services with briliant management.
Roberto Fusari (International Co-ordinator Eu)
Medium Mountain Guide, International Mountain Leader I've been walking in the mountains since my father decided to take his family there, as well as the cows. I was small, I had just learned to walk, in the plains, where I was born, but I have always experienced the mountain by walking in it and, at times, climbing on it, always curious about what it has given me, what it has given to man and how this has decided to live there. Architect, I have developed the themes related to the works of man, whether they are homes, shelters, infrastructures. Today I take care of making the mountains and more known to those who walk with me between one valley and another, towards a peak or in search of lost pastures, entering nature with every sense, so as to absorb the maximum of its charm.
Mr.Anup Koirala(Executive Director)
Mr.Anup Koirala was born in Dhading district who has finished his master degree.He work as an executive Director in this company.He is a successful person in tourism field of Nepal.He has strong connection with tour agent.He has unique ideas to promote sustainable tourism in Nepal-Tibet-Bhutan.Mr.Anup is genuine,honorable,hardworker and enthusiastic executive director of this company.
Aising tamang(Trekking Guide)
Mr.Tamang has a 6 years guiding experience. He was born in shangye (Annapurna region). He knows all adventure activities in Nepal. He is a Gov. Authorized trekking guide license and well trained tourism training.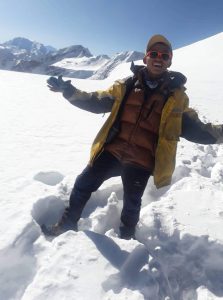 Guna Raj Rai (Trekking Guide)
Mr.Rai is a 30 years guide in our company he was born in solukhumbu (Everest reason) and has been mountains trekking guide since a 7 years of experience.he knows all adventure activities in Nepal.He is a Gov. Authorized trekking guide license and well trained tourism training
Pasang Ongchhu sherpa (Mountains guide)
I began my career sinces 2008. I was born in solukhumbhu (everest reason ) i speak english and franch language. I am a experiences and knowledgeable guide I am a Gov. Authorized trekking guide license holder and well trained tourism trainer.
Lakpa Tamang (Trekking & Climbing Guide)
Lakpa Tamang energetic and professional trekking and climbing guide. He has 12 years of experience in climbing and trekking Mt Everest, Mt Makalu. Specializing in major climbing trips and traversing high passes. Already climbed Mera, Island, Lobuche as well as many peaks. One of the few skiing trained in Nepal. He is experienced and all tourists appreciate his work because he is perfect in his own way.